In March, I decided to visit yet another location that I've been meaning to get to for a while now. I headed out to the Natchez Trace bridge near Franklin, TN. The Natchez Trace is a scenic parkway that runs from middle Tennessee all the way to Natchez, Mississippi. The best part about the bridge (and something that I wasn't expecting) is that it was wide enough for people to walk out on. There was even a parking lot at one end. This allowed us to park and walk out to catch an amazing view of the sun setting: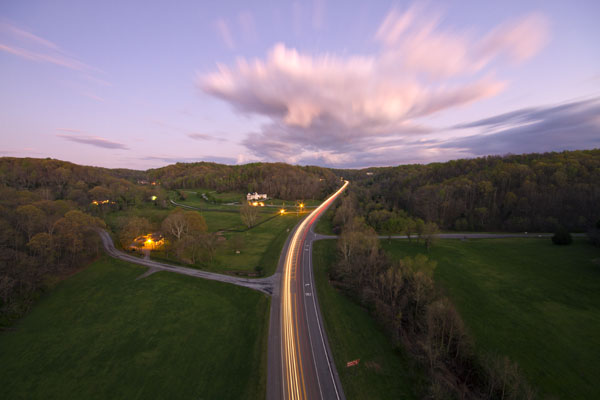 When looking up images of the bridge, I couldn't find any shots of it at night so I decided to head out there for sunset with the idea of staying late to shoot the bridge at night.
Once the sun went down, I was able to shoot the bridge from Highway 96 below.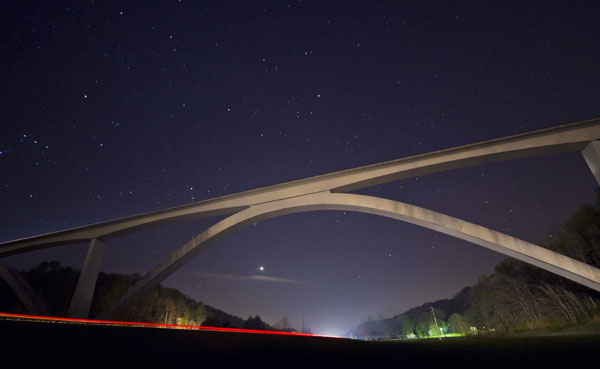 This is one 30 second exposure. I ended up taking about 80 of these shots, stacked them together and that's how I got the lead photo that shows the motion of the stars. That's how far the stars move in about 40 minutes.
From Wikipedia:
The Natchez Trace Parkway Bridge is a concrete double arch bridge located in Williamson County, Tennessee, 14 km (8.7 mi) from the northern terminus of the Natchez Trace Parkway. It is 479.1 m (1,572 ft) long and carries the two-lane Natchez Trace Parkway 44.2 m (145 ft) over State Route 96 and a heavily wooded valley. The 177.4 m (582 ft) long main span is symmetrical, while the 140.8 m (462 ft) long second arch is not, due to the slope of the valley at the southern end of the bridge.[2] The bridge is unique in that it does not use spandrel columns to support the deck from the arch. Rather than being evenly distributed along the arch's length, the weight of the bridge is concentrated at the crown of the arch. The lack of spandrel columns results in a clean, unencumbered appearance.
The bridge, also known as the Natchez Trace Parkway Arches, is the first segmentally constructed concrete arch bridge in the United States.[2] The arches comprise 122 hollow box segments precast in nearby Franklin, each of which was about 3 m (9.8 ft) long and weighed between 26 and 41 metric tons (29 and 45 short tons) .[2] The deck consists of 196 precast post-tensioned trapezoidal box girder segments, each typically 2.6 m (8.5 ft) long. The sections atop the crown of the arch are 3.9 m (13 ft) deep.[2] The foundations and piers of the bridge were cast in place.[2]
Thanks for stopping by!
If you have an idea for a place you'd like to see me shoot, let me know! Leave a comment here or send me an email!
http://malcolmmacgregorphotography.com/wp-content/uploads/2012/04/MG_9722.jpg
372
600
Malcolm
http://crovean.com/devsite1/wp-content/uploads/2017/03/logo-copy-website-header-300x124.png
Malcolm
2012-04-14 15:56:07
2012-04-14 15:58:22
March's New Spot - The Natchez Trace Bridge